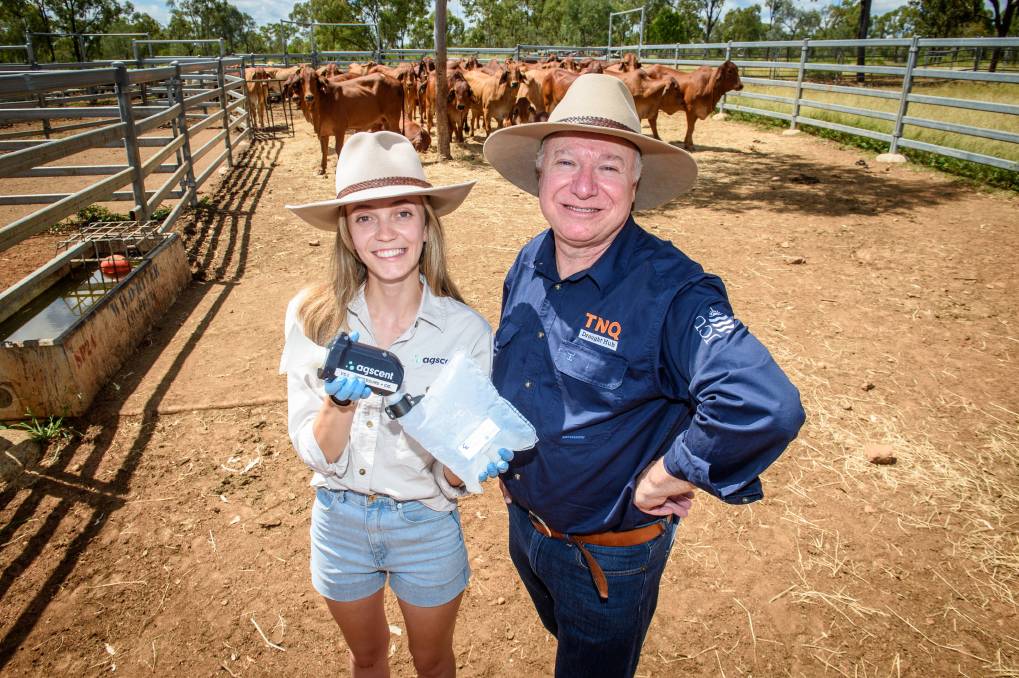 Pregnancy detection methods for cattle can be costly and dependent of the availability of veterinarians, but a new breath-based pregnancy testing method for cattle is being put through its paces to help ensure it is suited to cattle in North Queensland and it could be a game changer.
The trial, conducted on Fletcherview Station, near Charters Towers, has been funded by the Tropical North Queensland Drought Resilience Adoption and Innovation Hub, who are linking real-world industry problems with innovative solutions.
Hub director Professor David Phelps said that by working with innovative technology and professionals, they could play a vital role in helping agribusiness be more sustainable.
"Farmers and producers in tropical North Queensland experience different challenges compared to their southern counterparts, so it is important we are investing in research and technology to make their businesses more sustainable and resilient to future droughts," Dr Phelps said.
"Our hope is that by understanding the core issues affecting farmers and producers, this information can then be used by researchers within James Cook University as well as entrepreneurs and innovators to solve these problems.
"A good example of this problem to solution match-up is the Agscent breath-based pregnancy test product.
"This is a more affordable, effective alternative can help cattle producers make key decisions earlier."
Agscent field officers spent two days trialling the device at Fletcherview Station and Olga Downs, gaining valuable insight into northern Australian cattle and conditions.
"We're used to carrying out our testing on the Angus cows and Holstein Friesians, so we found these Brahmans have a different temperament," Agscent technical officer Charlotte Wood said.
"The device has held up really well in the heat which has been great to test out because we don't have this sort of environment down south, and it has been fantastic to talk to the veterinary students and producers to better understand the nuances of the northern cattle system.
"It's very useful information we've been able to gain so we can better optimise this device for use in northern Australia."
Dr Phelps said the trial proved to be extremely valuable and a great example of how collaboration with producers, researchers and innovators could help improve agribusiness and drought resilience.
"It's been great to bring Agscent to Fletcherview Station so we can really test out the way the equipment cups to the cow's nostril and give them a feel for the real world operation in northern Australia," he said.
"They've worked with thousands of cattle down in the south, but these conditions are different and they've had the opportunity to experience the way the cattle behave and take back additional ideas to refine their testing equipment to ensure the Agscent pregnancy tester can be suitable for northern Australia."
James Cook University's Professor Ian Atkinson said the Agscent trial was especially exciting as it provided the opportunity to showcase the university-owned Fletcherview Station, which is located just outside of Charters Towers.
"Fletcherview is a fully operational cattle property with approximately 600 head of cattle which have been bred to support research, learning and teaching for JCU's College of Public Health, Medical and Veterinary Sciences," he said.
"Having access to this facility opens up so many opportunities for research and technology trials to benefit TNQ's primary producers.
Original article: https://www.northqueenslandregister.com.au/story/8140996/cattle-pregnancy-breath-test-trials-take-place-near-towers/
NSW's natural resources, farming prowess, manufacturing capability and scientific expertise offer a raft of new agrifood opportunities.

The New South Wales government have provided Agscent the support to potential export all over the world.